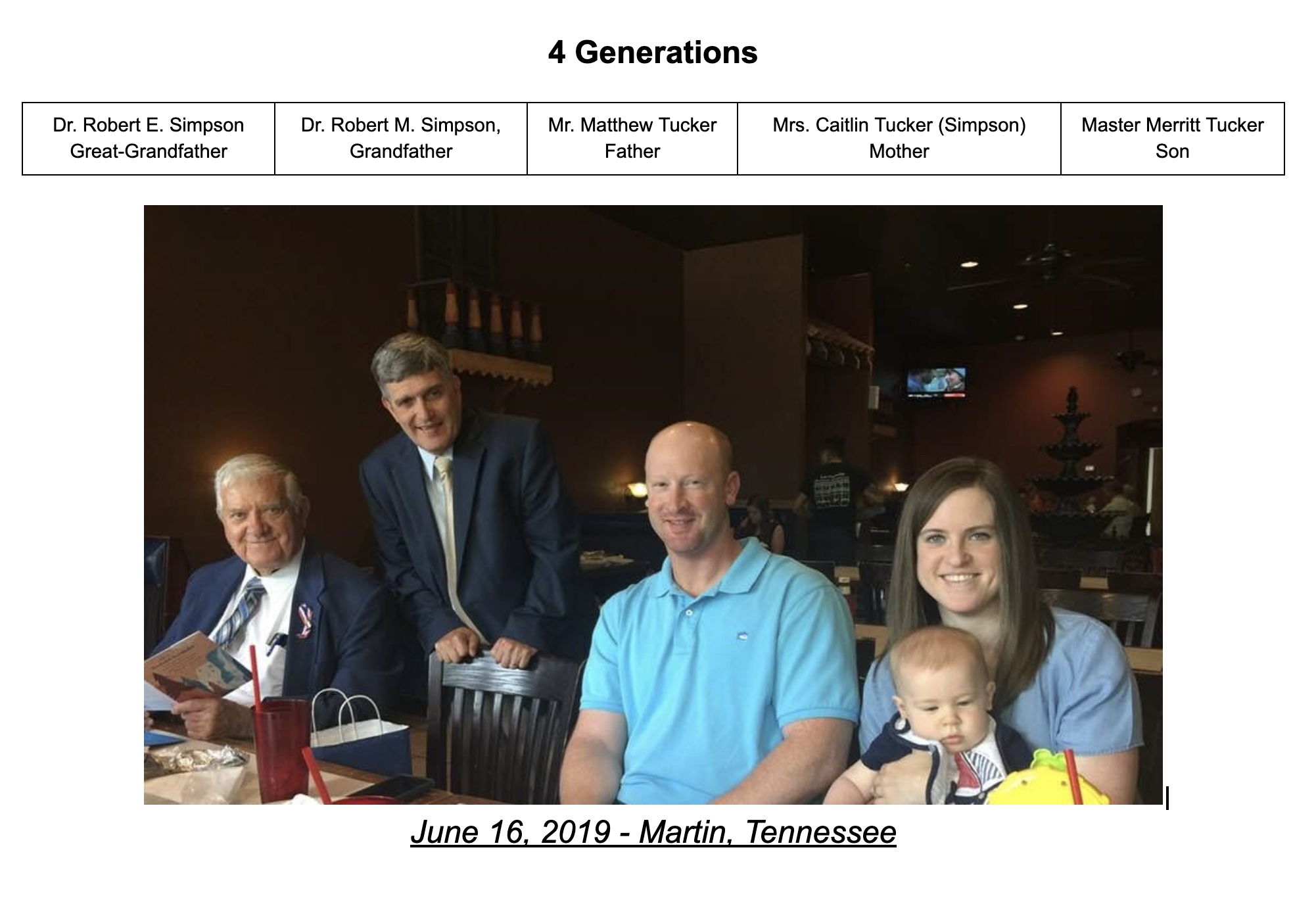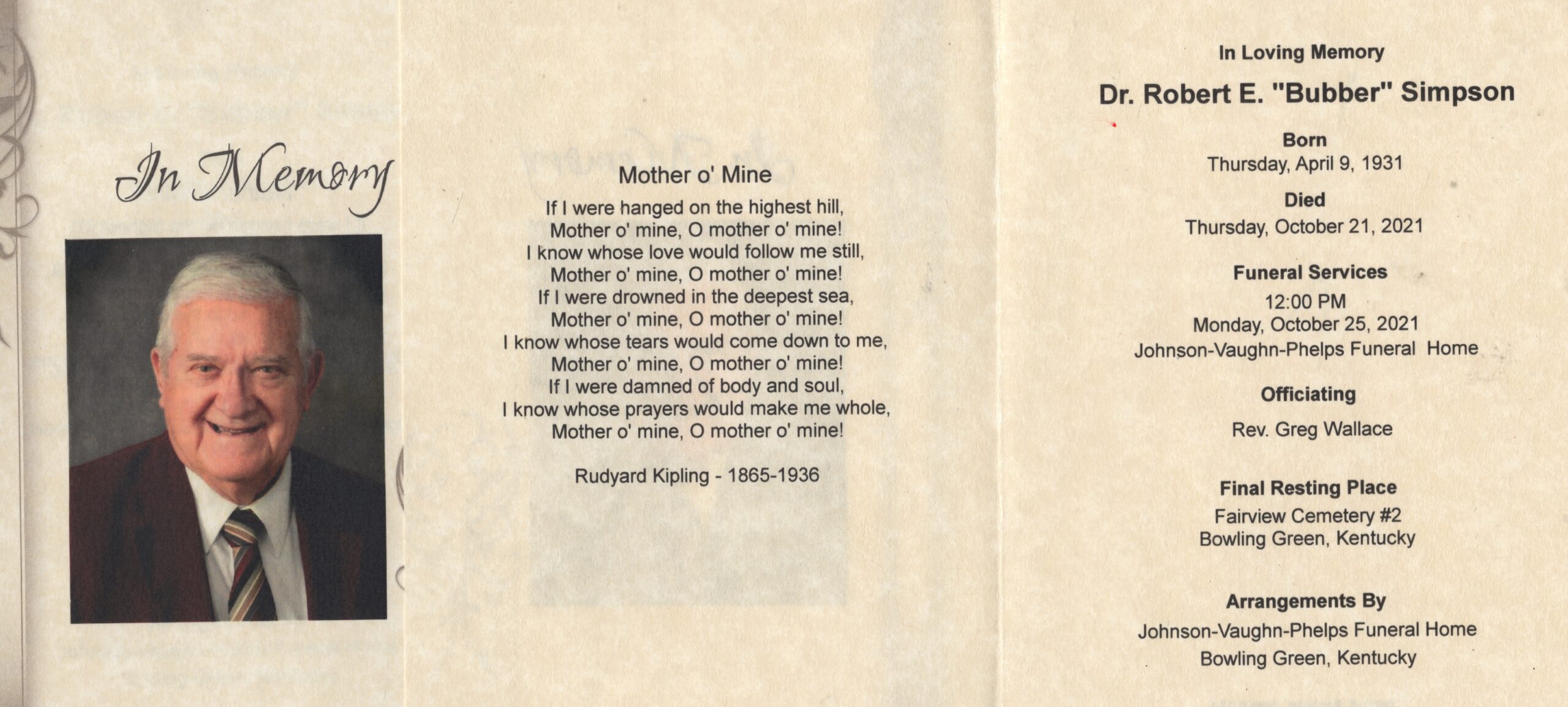 In Memory of Dr. Robert E. (Bubber) Simpson, PhD
Dr. Robert Edward "Bubber" Simpson, 90, of Bowling Green, Kentucky died at his home from natural causes on Thursday, October 21, 2021.   
Dr. Simpson is preceded in death by his wife, Mrs. Patricia (Bandy) Simpson, his father, George Brown Simpson III, his mother, Nina Sue (Wynns) Simpson, and his brother, George Brown Simpson IV.  He is survived by his brothers, Johnny Mac Simpson of Morganfield, Kentucky, and David Ray Simpson of Sturgis, Kentucky, and two sons, Robert Mark Simpson (Julie) of Martin, Tennessee, and John Timothy Simpson of Bowling Green, Kentucky.  He is also survived by his granddaughters, Caitlin Simpson Tucker (Matthew) of Martin, Tennessee, Mallory Simpson of Raleigh, North Carolina, and Hannah Simpson of Jackson, Tennessee, one great-grandson, Merritt Tucker, of Martin, Tennessee, and several nieces and nephews.
Dr. Simpson was born in Madisonville, Kentucky, on April 9, 1931, and graduated from Sturgis (Kentucky) High School where he lettered in football, basketball, baseball, and track and played E-Flat euphonium in the band. He graduated from Western Kentucky State College in 1953 and earned All-OVC Honors in football as a wide receiver on the 1952 Refrigerator Bowl Championship team; he was also on the track team. Following graduation, he was drafted by the New York Giants professional football team but served in the Air Force as a jet fighter pilot, F-86F Sabre Jet, in the rank of 1st Lieutenant and was a member of the Mach Busters Club. He became head football coach at Dale Indiana High School, where he met his future wife, Patricia, until being hired at Valley High School and Fairdale High School in Louisville, Kentucky, as head football coach and teacher of English and Biology. During his stint in Louisville, he also served in the Kentucky Air National Guard.
While teaching and coaching in high school, he earned a Master of Arts in Psychology from the University of Louisville and also studied counseling at The Ohio State University. 
In 1965, Dr. Simpson became an instructor at Western Kentucky State College in the Psychology Department. He received his PhD in Educational Psychology at the University of Alabama in 1970. He was a professor in the Psychology Department at Western Kentucky University until 2000.
Dr. Simpson was an avid gardener, quite a good pianist, dabbled in painting, enjoyed sailing with his sons, and was a member of the Port Oliver Yacht Club. He was a member of the W-Club, WKU's Athletic Alumni club since graduation. He served many years in the Kiwanis Club of Bowling Green, served as a deacon and Sunday School teacher (Couples and 3-Year-Olds), led Training Union with university students and was a member of the sanctuary choir at First Baptist Church, Bowling Green, Kentucky. He treated everyone with kindness, enthusiasm, and respect and was a loving father to his sons and husband to his wife of 60 years.
Memories on Photos
Dad loved to take pictures. Thousands of pictures and no matter how out of focus they were or how many extra copies he made of them both in print and virtual, he kept them all. 
Here is what I think he was trying to do described in a song by my favorite rock and roll group Kansas, which is on their newest album "The Absence of Presence", which is a song about everyone being on cell phones these days and nobody is really present anymore. 
The title of this song is Memories Down the Line and I think it is appropriate to add here on a page in honor of my father. I hope you see why it belongs here. 
Tim's Comments
Dad's Nature
I am here to give you some insight into my father's being that you may not have understood or seen to give you some idea of the nature of him. 
Dad was a psychologist, a "Mentalist" of sorts. He believed in his thoughts. He believed that what we think determines who we are. He believed that the threat of guilt was the guard rail that kept us from driving into the ditch in life. As his son, I naturally disagree with all of these notions and we, with my brother, would often have long philosophical discussions on these types of topics, along with our expert armchair football strategies. 
He believed in hard work and if the work wasn't hard, well, you had to make it hard so it had some value to it. Growing up with Dad was rather intimidating because of his physical strength. He was very energetic, very powerful, a force of nature...Mary Anthony dubbed him accurately, "Mr. Universe." Dad "hustled" at everything he did and when he got on a jag it was hard to rip him from it. Basically, he was like a dormant volcano and you knew that an epic eruption of energy was possible at any given moment. 
Dad was a saver…of everything... from used tissues in his pajama pockets to money. Old paint cans, rusty crooked screws, one sided scissors and the list goes on and on...no tool outlived its usefulness as long as you wore old tattered gloves. He wrote a lot of papers and was a scrapbook guy. No binder was big enough and that bulge under the mass of indecipherable scribble he left behind. He wrote poems without editing them, and his rhyming was … let's call it "forced". 
Dad was always very intent on visiting people, the elderly, the sick, and wanted to visit every house in Union County and as soon as we drove over the border he started giving us all the complete biographies of every person he knew throughout his life as we passed from place to place. The speed limit for Dad was 25 mph in Union County...which didn't always sit well with those aching to get out of the car at the end of a long trip. 
Dad and Mom were much like oil and water to be honest, but they were always there for each other when things got difficult. When they had to be in the hospital, they would spend the night as well if possible. 
Dad didn't like serious operas very much. He liked the pieces that had happy endings. He liked to laugh and enjoyed comedy. He couldn't figure out why people loved operas where the end of the story is the death of the main character. 
Dad did not believe in death. He never thought in terms of death. To him, everyone gets better and will live forever. No matter how often I told him Mom was going to die he never believed me. Death was always a surprise to him. With Dad the phrase "Never say die" takes on new meaning. Yet, he would be the first person to want to hold your hand when you took your last breath.
Dad genuinely cared about people. He was always happy to see people, always wanted to shake every hand, and always had that infectious personality that seemed to be the hallmark of the Diddle era at WKSC with an "enthusiasm unknown to man".
(I am building a page for Dad. It will be under construction for a while. Please excuse the mess!)
Titles
Dr. Robert E. Simpson, PhD (University of Alabama), Educational Psychology, Professor Emeritus-Western Kentucky University
First Lieutenant Robert E. Simpson, United States Air Force, Fighter Pilot, F-84 and F-86-F, Kentucky Air National Guard
Talents and Skills
(These are things he actually has done at a pretty high level: Not bad for a kid from Sturgis, Kentucky)
Piano, Euphonium, Guitar, Choral Singing, Artist/Painter
Lifetime Pilot's License,Teacher,
Athlete: Football, Track, Basketball, Baseball.
Family
Wife: Patricia Burnette Bandy Simpson - Married on February 14, 1958

The Genius of the Family (Along with Merritt)
Son #1: Dr. Robert Mark Simpson - PhD, Geography, Professor, University of Tennessee at Martin

Daughter in Law: Mrs. Julie Wallace Simpson - Special Education and Speech Pathology Teacher

Grand Daughters:

Caitlin Elizabeth Simpson Tucker (Matthew Tucker, Husband) Speech Pathology Teacher

BA: UTM. MA: WKU

Great Grandson: Merritt Bran Tucker

Mallory Ann Simpson - Missionary Work

BA: UTM. MD Southeaster Baptist Theological Seminary

Hannah Claire Simpson - Teacher - Missionary Work

BA: WKU. MD Southeaster Baptist Theological Seminary.
Son #2: Mr. John Timothy Simpson - Musician - Opera - Tenor

BM: WKU. MM: Eastman School of Music