The 35th Reunion
1983 Western Kentucky University Chamber Singers
St. Moritz Festival Chorus and European Tour!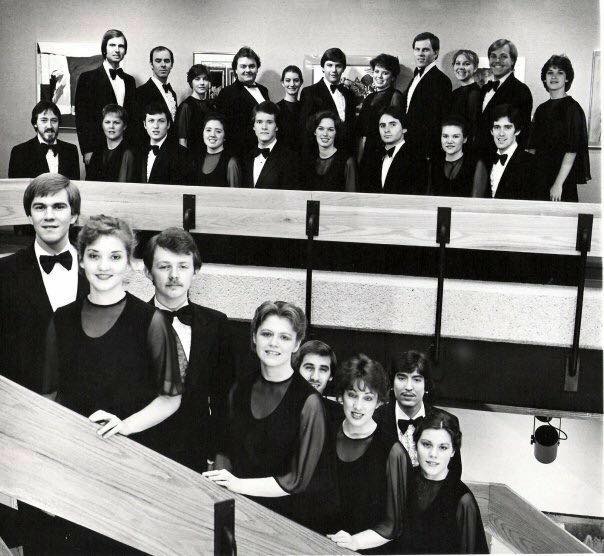 Members:
Tommi Smith and Beth Delap were on the tour but are not pictured here. I will post another picture of the Tour Group when I get it.
Starting Back Row Horizontal Left to Right
Dr. Charles S. Hausmann, Director, Joe Williams, Nancy Cron (replaced on the tour by Beth Delap I believe due to pregnancy), Tim Reed, Chandler Fowler Jefferson, Kevin Kinnaird, Debra Breeding Belcher,  Calvin (Neil) Overstreet, Joanna Daniel Metcalf, John Apple, Teresa Saylor Grayson.
Front Row Horizontal Left to Right:
Tony Conyer, Debbie Reed Harrod, Brett Ballard, Alisia Beckham Kelly, Todd Woodward, Valerie Hale, Chuck Lawson, Mary Beth Hancock McCandless, Timothy Simpson.
Back Row Diagonal Down – Left to Right.
Ted Barr, Stan Paschal, Jon Vaden, Keith Overton
Front Row Diagonal Down – Left to Right
Amy Tate Williams, Anne Paxton Vinson, Lisa Boley Seng Shadday, Sherri Phelps.
For Videos of the Event and of the Tour Please Refer to the Booklet Page! Clicketh Ye Here!
The Reunion 83 Website
This webpage will be used as the webpage for the 1983 WKU Chamber Singers European Tour Reunion Site.
"Reunion 83" was an opportunity to revisit that amazing experience and to make a new memory of those life changing years on "The Hill"
I will do my best to post all relevant information here and provide a go to place, other than Facebook, for the public view.
There are several pieces that we are going to try to perform at the reunion from that concert. Enjoy. Actually, we were pretty good.
Programs from the Chamber Singer's Tour of Europe…Provided by John Apple!
Chamber Singers European Tour Itinerary 1983
Chamber Singers European Tour 1983 – Victoria Hall Program – Geneva, Switzerland
Chamber Singers European Tour 1983 – Pavillion Baltard Program – Nogent-sur-Marne, France
Last Will Be First
In designing this webpage, from this point on the page onward, I will be posting new content before old content, therefore, if you want to see history you scroll down, much like Facebook does with it's postings. Stay tuned! (December 12, 2017)
So it begins!
Below is a video of the Concert with the University Choir and Chamber Singers. The European Tour is attached at the end of this video at 60 minutes.